Maisa gives you access to public social and health care services even on your mobile phone.
Maisa is an e-service portal that gives you access to public social and health care services even on your mobile phone
Maisa is a client portal created for the Apotti system. It combines e-services for social care and health care into one single channel of communication.
In Maisa you can attend to matters relating to your health or social care needs regardless of time or place. You can use Maisa easily online at www.maisa.fi or through a mobile application. You can download the mobile application from the iOS and Android application stores.
Maisa sends you reminders of events such as upcoming appointments, new messages and available test results. If you wish, you can receive alerts by email or text message or through the mobile application.
Important notices
06.06.2023 klo 12:00, Important notice
Scheduled Maintenance on the Maisa Portal
We will be performing scheduled maintenance on the Maisa portal on 10.6.2023 between 01:00 and 06:00. During this period Maisa may be momentarily or entirely unavailable. We apologise for any inconvenience. 
In the Maisa portal you can:
You can prepare for your visit at home by filling in the necessary health history forms and questionnaires at your own pace.
Persons aged 18 or older can authorise another person to act on their behalf in the Maisa portal.
If you have questions about the Maisa client portal, go to Frequently Asked Questions.
See also our Maisa playlist on YouTube.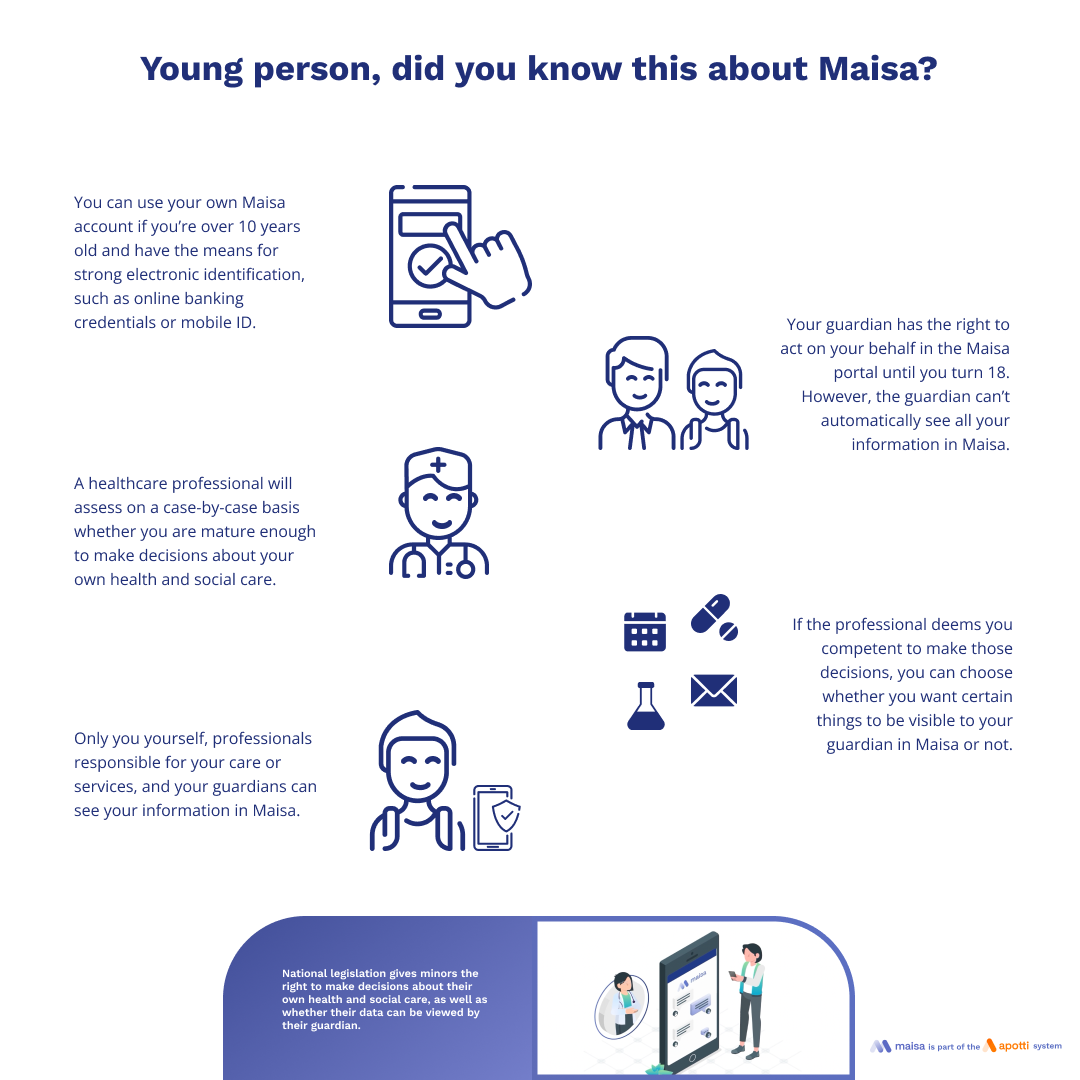 What is Maisa?
Maisa-asiakasportaali tuo digitaaliset palvelut 1,7 miljoonan Uudenmaan kuntalaisen arkeen. Maisa on käytössä Apotti-järjestelmää käyttävissä kunnissa ja HUSin erikoissairaanhoidossa.